Insulated Immersion Suit
Wearing Process:
Brief Introduction:
In conformity with the 1983 & 1996 Amendment of SOLAS, our Insulated Immersion Suit has been approved by China Classification Society (CCS) and EC certificate.
It has a Jacket integrated with its trousers and no inner jacket is required anymore for the wearer and is attached with whistle & a life-light as well. It is a kind of personal life saving equipment fit out for seagoing ships and marine engineering (including underwater engineering, drilling platforms and salvage).
The material of our Insulating Immersion Suit is waterproof foamed rubber slice. Its connection lines are sewed with polyamide fiber thread after being glued together. Its sewing density is 40 needle/100mm and its outside color is purple. It is also equipped with waterproof zipper.
SOLAS Standard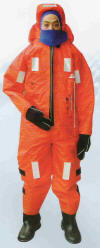 SOLAS Standard
Main Features:
It will not sustain burning or continue melting after being totally enveloped in a fire for a period of 2 seconds.

It is provide with arrangements to minimize or reduce free air in the legs of the suit.

A jump from a height of not less than 4.5m into the water, not damage, not shift and the wearer does not be injured.

The wearer can climb up and down a vertical ladder at least 4.5m in length.

The wearer's mouth should be clear from water at no less than 120mm.

The buoyancy is more than 142N in water and is not recued by more than 5% after 24Hr submersion in fresh water.
Specifications:
| | | |
| --- | --- | --- |
| Item/Products | Insulating Immersion Suit | Note |
| Net Weight (kg) | 5+/-0.5 |   |
| Size (cm) | 157-190 |   |
| Wearing Time (Min) | <2 |   |
| Temperature Applicable | -1oC-30oC (30.2oF-86oF) |   |
| Waterproof Performance | The water-permeability amount is less than 200g after the wearer has floated on water for one hour. |   |
| Thermo-insulation Performance | After the wearer soaks in stationary water of 0oC-2oC for 6 hours. The drop of the body-temperature is less than 2oC. |   |
| Floating Performance | The wearer can turn over within 5 seconds, so that the face toward up and the nose and mouth portion is 120mm above the water level. After the wearer soaks in water 24 hours, the floating loss of the suit is less than 5%. |   |
| Watertight & Airtight Character | Fill air pressure 0.02 bars into the clothes for 15 minutes and immerse it into water without leakage. |   |
Packing Details
Each Insulation Immersion Suit is packed in a paper carton with size 580*280*320mm. Gross Weight: 7.5kg.